Advice — john truby
Posted by John Truby on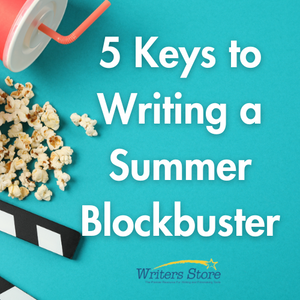 It used to be that summer was the season for blockbuster movies. Now it's a year-round phenomenon. Hollywood is in the business of selling films to a worldwide audience, which means they are always looking for a script with blockbuster potential. Most screenwriters think a blockbuster is simply a film that does really well at the box office. Technically speaking, that's true. But the reality is that a script with blockbuster potential is a very special kind of script, with a number of story elements that studio executives are looking for. I'd like to point out five of the most...
Posted by John Truby on
John Truby is Hollywood's premier screenwriting instructor and story consultant. Over the last 25 years, more than 30,000 writers have attended his sold-out seminars around the world, with the American Film Institute declaring that Truby's "course allows a writer to succeed in the fiercely competitive climate of Hollywood." Called "the best script doctor in the movie industry," Truby regularly serves as a story consultant for major studios and production companies worldwide, and has been a script doctor and story consultant on more than 1,000 movies, sitcoms and television dramas for the likes of Disney, Sony Pictures, FOX, HBO, Alliance Atlantis,...
Posted by John Truby on
Whether a screenplay deserves an Oscar nomination depends on how it reads on the page and plays on the screen. But if you want to learn how Hollywood's best screenwriters got that way, you have to begin by determining the challenges they faced at the outset of their tasks. Then you can identify, and learn, the techniques they used to meet the challenges.For Oscar nominees, these techniques typically fall into three major categories: mixing and transcending genres, and connecting character to plot to theme. Best script nominees, even when they are indie films, not only combine two or three genres,...
Posted by John Truby on
The key question that all screenwriters should ask themselves is: how do I write a script that Hollywood wants to buy? Most writers mistakenly think that success is all about connections and star power. Not so. The real trick to writing a script that will sell is to know and use Hollywood's central marketing strategy. And that can be summed up in one word: genres.Former Universal Pictures chairman Marc Shmuger recently said, "There's no doubt the star system is in transformation. Arguably the two biggest stars in the first half of 2009 were Kevin James (Paul Blart: Mall Cop) and...
Posted by John Truby on
The run-up to Oscar season has produced a surprising development in the ecology of ideas that underlies our popular culture. Hollywood storytelling has long been dominated by a high-speed linear form that packs as many thrills into two hours as possible. The time span of the story is short. The impact on the audience is emotional. And the change in the hero is almost always psychological. When the moral element does show up, it is limited to a simple lesson no deeper than a platitude. But recently a very different model of storytelling has appeared. These stories often frame a...
---