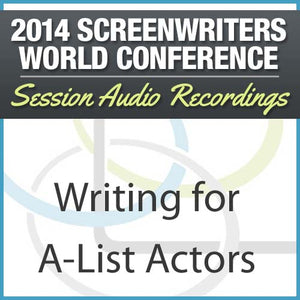 Writing for A-List Actors - 2014 Screenwriters World Conference Session
Learn how to write movie scripts that actors gravitate toward time and time again. With insight from a panel of producers, agents, writers and actors about what makes a script that will draw in bankable actors, this conference session covers the interplay between the casting and writing processes.
The panel from this recorded session from the 2014 Screenwriters World Conference will provide instruction about how to capture the attention of your readers so actors want to play in your movie. Writing a movie script that will attract an A-list actor means avoiding generic characters at all costs. You must write a script with a really challenging and interesting character arc that an actor sees as a thrilling character to play. Perfect the art of layering in subtext with examples of great scripts and how they attracted bankable actors. You'll be packaging and selling your script in no time. 
The Writers Store does not offer any refunds. All sales are final.