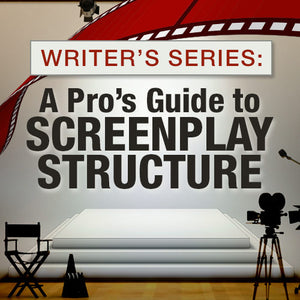 Writer's Series: A Pro's Guide to Screenplay Structure
Choose the "Entire Series" option to get all three webinars together for the price of two! That is $79.99 off.
ABOUT THE WEBINAR:
These three unique webinars will lay out precisely what goes into each separate act of your screenplay. Knowing these basic road signs of a great story, we will go beyond the formula and get a more organic understanding into the underlying essence of what truly makes great screenplays—and what story structure is really there to accomplish—creating complex characters who are being forced to grow and change because of the plot points of your script.
A Strong Beginning: Write an Enchanting Act One (OnDemand):
The beginning of a screenplay puts an intense amount of pressure on the writer. You need to capture your audience's attention, establish your characters, and set the stage for the rest of the screenplay to unfold—all in a few short pages.

This webinar will cover what every writer needs to know about building the first act.
Writing a Strong Middle: Conquering Act Two (OnDemand):
This is the tough one. The first act is all fun and games, but this is where the real work of a screenwriter begins. This webinar will cover what your second act needs in order for the reader to keep on reading!

This webinar gives screenwriters the tools they need to not only finish act two but to amp up the stakes so that your readers can't turn away.
Establishing a Strong Ending: Satisfying the Audience in Act Three (OnDemand):
The ending is what the auidence remembers. It is what they read the entire script to see. How do you make a satisifying and memorable ending? This webinar will cover what your third act needs to have in order to be successful.

Also, this webinar will look forward to planning rewrites after your finish your screenplay.
Many examples from successful movies will be given to illustrate the basic elements of story structure: including the grabber, the inciting incident, plot points and many others. Valuable insights from the most influential teachers will be utilized to give a broad understanding of what can make your story unique and successful. Also, you will receive an easy-to-use diagram of how to outline your story so that you can build your screenplay on a rock solid structure.
The webinar will be taught by Glenn M. Benst, award-winning screenwriter and one of Los Angeles' most popular and successful instructors of screenwriting workshops.
WHAT YOU'LL LEARN:
How to create an outline without getting lost in the details
Using broad stroke story beats rather than individual scenes when devising your outline
What the similarities are to all the theories about story structure and what we can learn from each of them
Going beyond the completion of your third act—how to devise successful rewrites
Why story structure is there at all—the real essence of a great story—forcing your characters to change.
WHO SHOULD LISTEN:
Writers who want to learn the vocabulary of story structure and what each term actually means
Writers who have trouble with their outlines
Writers who want a clear roadmap to story structure
Writers who haven't been taught the connection between story and character
Writers who want to break the mold of formulaic writing
Writers who want an audience to connect emotionally with their stories
The Writers Store does not offer any refunds for the webinar. All sales are final.