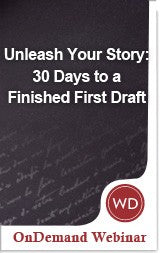 Unleash Your Story: 30 Days to a Finished First Draft
With this OnDemand webinar, you'll learn:
Exactly how to structure your days, for 30 days, to have a full-length first draft finished by the end of the month
How to find your authentic voice and let it shine through (as Julia Cameron says, making writing "more like eavesdropping and less like inventing a nuclear bomb")
Why writing, editing, and marketing are separate activities and how to get better results in all three stages of your project
A unique approach to researching for your story
How to ignore your inner critic, overcome fear of embarrassment and fear of not following through
How to break through all common types of writer's block and obstacles to finishing

About this OnDemand Webinar:

Maya Angelou said "there is no agony like bearing an untold story within you." If you know what she means, this presentation is for you. You want to share your story idea with the world, but you procrastinate, you outline, you think about it, and maybe you tinker with what writing you've done without making any real progress.
Unfortunately, there is no substitute for plowing through writing a full-length first draft! The good news is you can do it in less time than you think.
Through the writing process itself, you will become a dramatically better writer. You will know your story better—and why you really wrote it—once you get through the first draft. A good analogy is that you can sit home staring at a map of a country you want to visit, or you can leave the house and go on the adventure. Writing is the adventure of self-discovery.
In this presentation, author Ivory Madison gives you the tools and encouragement you need to finally follow through on your dream of writing this book. She sets you up for success with a concrete plan of when you will write and what to do when you get stuck, busy, or resistant.
No matter what stage of the writing process you're in, whether you haven't written a single word, have an outline and a few scenes but have stalled out, or are almost done with a first draft but feel blocked about finishing, Madison has proven strategies that will get your full story written in less than 30 days. And yes, really in less than 90 minutes a day. It works for aspiring and professional writers alike.
The Writers Store does not offer any refunds for the webinar. All sales are final.