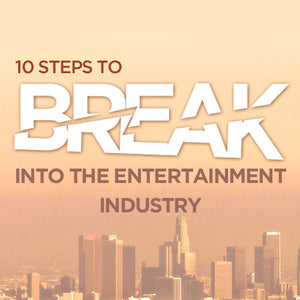 Ten Steps to Break Into the Entertainment Industry
ABOUT THE WEBINAR
Have you ever watched a television series or sat through two hours of a movie and said to yourself: my scripts are better? While that may be true, the writer of the series or film has something you don't – access.

So what's more important, talent or access? Talent without access leads to frustration. Access without talent spawns uninspired television shows and feature films. You already have the talent. Now all you need is the access. Even though you may be doing all the right things – social media, building a brand, etc. – you need to set yourself apart from the crowd in cyberspace. This OnDemand webinar will show you how.
WHAT YOU'LL LEARN:
Why it's critical to focus on specific goals
The importance of bringing something to the table
How to map out a realistic path to Hollywood
How friends and family can be an untapped resource
The art of creating proximity to high level contacts
How to set off a person-to-person chain reaction and keep it going
WHO SHOULD LISTEN?
Writers who have a stack of spec scripts waiting to be read
New writers wondering how to connect with buyers and employers
Veteran writers who have hit an impasse
Writers who are disillusioned with traditional networking
Writers with no contacts within the industry
Writers who have contacts but don't know how to parlay these relationships into a writing career
The Writers Store does not offer any refunds for the webinar. All sales are final.