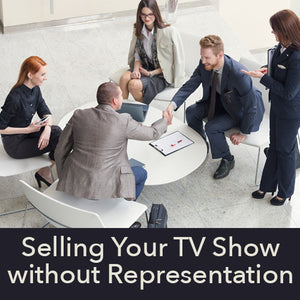 Selling Your TV Show without Representation
ABOUT THE WEBINAR
Getting representation to sell your TV show can be a frustrating experience especially when you are told that you need an agent to sell a show, and you can't get an agent if you haven't sold a show. So which comes first the chicken or the egg? Dr. Donna knows firsthand that it has nothing to do with either the chicken, or the egg. It has to do with your mind set, your talent, and your relationships.
The TV series, "Necessary Roughness", was based on the life of Dr. Donna Dannenfelser when she served as the mental health clinician to the New York Jets. When USA Network picked up her show they told her, "If your writers can get on the page what you just told us we will have an award winning show." Donna pitched her show without an agent or a manager and without a pilot script, just an idea along with her life story. It was her belief that her show was worthy; her mind set that it only takes one yes; and her persistence, that allowed her to sell a TV series without representation.
This webinar is presented to you by Dr. Donna Dannenfelser, psychotherapist, producer, writer and script consultant. Many in the industry told her it would never happen. She said… "Watch me." This webinar will get you into the mindset of Dr. Donna and show you where your mindset needs to be to manifest your own TV series. She will discuss the 10 things she learned while on her journey towards the airing of "Necessary Roughness" and how she achieved what others said would be impossible.
Learn from a psychotherapist turned writer, co-executive producer and script consultant the fundamental elements of getting your work sold. You have all the writing talent you need, now it's time to learn the business side of "show business".
WHAT YOU'LL LEARN:
The correct mind set needed for a successful sale.
Three basic things that will sabotage your success.
How to remain positive when all doors seem to be closing in your face.
How networking helps you sell your work.
How much talent has to do with selling your project.
The mindset of the "Pitch."
How Life-Coaching can aid you in the entertainment industry.
WHO SHOULD ATTEND?
Beginning writers who want to sell their work.
Professional writers who know they have a great show but can't seem to find takers.
Producers and writers who can't seem to get those top agencies to view their work, let alone sign them up.
Those who are frustrated with their agents and managers.
The Writers Store does not offer any refunds for the webinar. All sales are final.