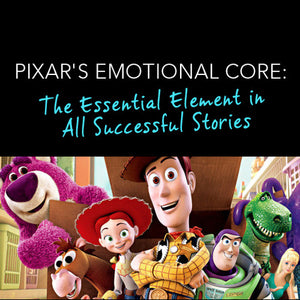 Pixar's Emotional Core: The Essential Element in all Successful Stories
ABOUT THE WEBINAR
If you're looking to take your writing to the next level, join UCLA instructor and author Karl Iglesias in this OnDemand webinar as he discusses the most critical foundation of all Pixar films -- the story's emotional core, also known as "the heart of the story." Through screenshots and in-depth analysis, Karl will guide you through the master storytelling techniques Pixar uses to hook all of us into the story. He will also explain what makes us care for the main characters and inspires us to follow them on an emotionally satisfying journey of adventure and transformation.
Karl will also illustrate how the emotional core has led to Pixar's record success and how copycats that have ignored it, or improperly used it, fizzled at the box-office.
WHAT YOU'LL LEARN:
The one and only storytelling rule that can never be broken
How to find the emotional core of your story, as well as the plot's engine
The four elements that create a strong emotional connection with your characters
The three essential throughlines in a story including the one most writers ignore
How to make sure the stakes in your story are truly emotional
The key to keeping the reader hooked until the end of your story
WHO SHOULD ATTEND?
Writers who want to maximize the reader's emotional response to their stories
Writers who want to go beyond the basics of the craft
Writers who want to learn how Pixar creates masterful stories
Writers who want to take their writing to the next level
Writers who struggle with their rewrites
Analysts and creative executives who want a deeper understanding of the craft of storytelling
Karl Iglesias is a screenwriter and sought-after script doctor and consultant, specializing in the reader's emotional response to the written page. He is the best-selling author of Writing For Emotional Impact and The 101 Habits of Highly Successful Screenwriters.
The Writers Store does not offer any refunds for the webinar. All sales are final.