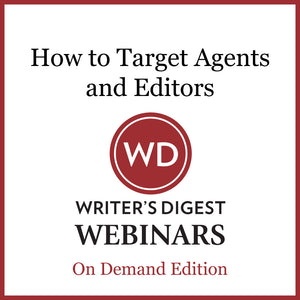 How to Target Agents and Editors: Market Your Novel to the Right People Webinar
ABOUT THE WEBINAR
Too often, writers receive countless rejections for their writing projects—not so much because the writing is bad, but simply because they are sending their projects to the wrong people. Writers need to learn how to target their searches for the right agent and the right publisher. Precise targeting allows writers to save time and heartache, and gives them the best chances of success.
This OnDemand webinar teaches writers how to dissect both their own writing and that of published authors to understand their individual writing voice and that of the publishers. The webinar will also include a chance to provide criticism of pitch paragraphs to identify is the author is really "selling" his or her project.
Instructor Scott Eagan has worked with numerous writers showing them how to target their writing and in this webinar will guide writers in not only finding the best target audience but also to identify elements in that pitch paragraph to hook editors and agents.
WHAT YOU'LL LEARN:

Understand successful dissection of markets and the taste of editors/agents

Understand the common mistakes writers make when dissecting a novel and examining their own style

Know how to examine the 5 key areas of a successful novel dissection

Understand what your niche is

Understand how to research editors and agents to find the right location for your writing

Understand how to showcase your writing in a pitch paragraph
The Writers Store does not offer any refunds for the webinar. All sales are final.