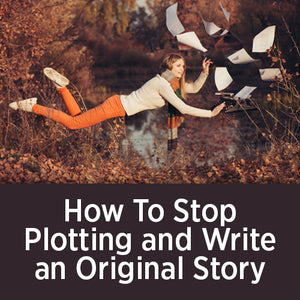 How To Stop Plotting and Write Original Story
ABOUT THE WEBINAR
If you're 'plotting' your story, just stop! This OnDemand webinar will show you how professionals stop plotting and start creating feelings and emotions that come from your 'craziest' notions—the ideas you get in the shower that never seem to translate properly into your script. Now they can. And if they can, your plot will happen automatically. Why? Today's film and TV is different—the wilder the story the better. Extreme characters in extreme situations—that's what producers want. Twisting your story and characters for today's marketplace means call for your deepest and most imaginative 'insane' ideas—but how to do that? This OnDemand webinar gives you the tools to FEEL your way through your story instead of just saying' now this happens and then this happens.'
Story today isn't simple! It zigs and zags. You need to tap into your deepest imagination in order to appeal to today's incredibly sophisticated audience. So how do you take your story into the new stratosphere? By creating deep and original action and characters who feel fully human and alive - and you do that by giving them the deep eccentricities that all real people possess—dark secrets, hidden wishes, embarrassing desire and pains. Where do those come from? You'll find out in this OnDemand webinar.
Join famed Hollywood script doctor Peter Russell (peterrussellscriptdoctor.com), who has taught and inspired writers like Kor Adana (MR. ROBOT - Emmy for Best New Drama 2015), and Hal Ozsan (SONS OF ANARCHY). This information-rich, fast moving OnDemand webinar will inspire you with Peter's signature visual style, while giving you the tools that let you use your own 'wild' imagination and innermost pains and pleasures to create a story that no one will see coming, and characters that have the surprise and originality that today's audiences demand.
WHAT YOU'LL LEARN:
How to stop plotting
How to start feeling your way to fabulous stories
Why only one structure matters -- and why you should forget that one, too
The best way to create original character (it's not about lists - yawn)
Why the reason you write is also WHAT you're going to write - always
How to use your anger and frustration with writer's block to supercharge your story
Why ANY feeling is the best way forward in a scene
How the one true core of all great character is secret pain
Why embarrassment fuels every original element in your story
Why your own most painful secrets will sell your story
WHO SHOULD WATCH?
Writers who are stuck or bored with their stories
Story creators who can't sell in the new TV market
Producers who want to supercharge their writer's rooms
Creators whose film scripts need deep rewrites
Editors who want to understand how to improve their storytelling skills
Writers have fabulous beginnings but who always just peter out
Writers who have great beginnings AND endings but no middles
Creators who always get the note 'your hero isn't sympathetic'
Writers who always get the note 'your characters are plot-driven'
Peter Russell is a Screenwriter and Teacher of Film & Television who sold two television pilots in 2018/19. Peter started as a story analyst in the 1990s, and has read over 3,000+ screenplays for major film and television giants including Imagine Entertainment, Participant Productions, HBO, CBS, Walden Entertainment and others. Peter was invited to teach at UCLA in 2004, and it became a passion, too.  He was UCLA's Teacher of the Year in 2009. He has taught  Television pilot and Film story creation at Pepperdine University's Seaver College Screenwriting MFA program, at Story Expo in LA and New York, and many others.
The Writers Store does not offer any refunds for the webinar. All sales are final.