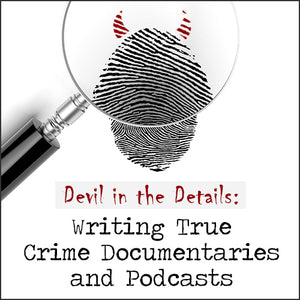 Devil in the Details: Writing True Crime Documentaries and Podcasts
True crime stories have been forever and only grown in popularity with the advent of compelling documentaries and podcasts that delve deeper into engrossing stories of human evil and those who survive in order to tell the tale. In "Devil in the Details" we discuss the latest documentaries and podcasts examining some of the most famous true crime cases in the news today. The presentation examines the narrative structure and framework upon which these compelling programs are constructed, and show how they follow very basic rules to engage their subjects as well as the audience without sacrificing authenticity.
This OnDemand webinar presentation shows why true crime is one of the most popular genres today and how television especially is in a new golden age of true crime documentaries. Case studies of the latest true crime shows and specials reveal how producers, directors and researchers all work together to illuminate the dark and sometimes sordid details that form the basis of any successful true crime story. Also we discuss the pros and cons of using reenactments where archival images and/or footage is unavailable. The presentation also shares the single most important ingredient to any true crime story and how to keep your audience engaged up until the very last moment.
WHAT YOU'LL LEARN
How to introduce your characters in a way that engages the audience in the storyline immediately
How to develop the storyline using journalistic techniques to retain authenticity
How to write a documentary outline using archival images, footage, interviews and reenactments
How to pace your documentary and podcast to keep the audience engrossed in the subject matter
How to craft interview questions that will bring out your true crime subject's most revealing details and points of view
How to file FOIA (Freedom of Information Act) paperwork in order to get information that is vital to your story
How to craft a chronological timeline of events that is concise and will give your story historical context
How to secure the rights to a true crime story in order to write, sell and produce your documentary and/or podcast
WHO SHOULD WATCH?
True Crime enthusiasts who would like to create their own documentary or podcast on their favorite case
Writers who want to learn how to craft a compelling true crime story that will attract the interest of buyers and/or distribution
Writers who want to hone their journalistic documentary skills
Writers who want to learn how to effectively research true crime stories
Writers who want to turn their talents to creating compelling, true crime podcasts
Writers who want to secure the life rights from principal players in true crime stories
Screenwriters who want to learn how to write a documentary outline using archival materials
Writers who want to learn how to craft compelling and engaging interview questions
Writers who want to know how to structure true stories for film and television formats
Writers who want to know how to engage and work with law-enforcement agencies
Jon James Miller is an award-winning screenwriter, novelist, and short story writer. His debut novel, Looking For Garbo http://www.lookingforgarbo.com a noir thriller was published by Amphorae Publishing Group http://www.amphoraepublishing.com/product/looking-for-garbo/ and is a 2019 INDIES Book Award Finalist (https://www.forewordreviews.com/awards/) and 2019 MiPA Book Awards Finalist (https://mipa.org/midwest-book-awards/). Jon is represented by Jill Marr at Sandra Dijkstra Literary Agency. 
The Writers Store does not offer any refunds for the webinar. All sales are final.