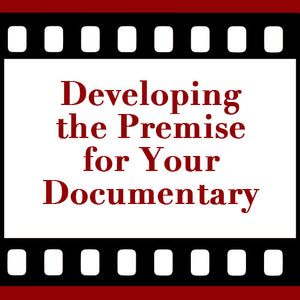 Developing the Premise for Your Documentary
ABOUT THE LIVE TUTORIAL
Documentaries are not just for public television anymore. The popularity of documentaries continues to grow on various platforms with an ever-growing mainstream market. Digital technology has opened up the possibilities for both short and feature-length documentaries to be made less expensively and faster. However, speed and not needing to go broke to make your film, does not make a good documentary. Indeed, one vital element has not changed over the recent years, and that is how to succinctly convey your ideas. Knowing how to hone down your ideas, disseminate research, and targeting interviewees are just a few aspects of developing your documentary's premise. Good storytelling is the key to a successful documentary. Whether you are profiling a person, investigating a crime, or documenting an event, telling an engaging and thought-provoking story is imperative in order to capture your intended audience. There's a delicate balance of preparing your premise and getting your ideas onto the page while keeping an open mind to the possibilities of surprising material you might uncover or interviewees' responses. Regardless of the length you intend your project to be, this class will offer specific strategies for developing the premise of your documentary and tips on how to implement your ideas.
WHAT YOU'LL LEARN
How to write a clear and focused premise.
Tips on writing a thought-provoking documentary.
Tools on implementing and outlining your ideas.
Convey ideas succinctly.
The various documentary styles.
How to structure a documentary script.
How to avoid common writing pitfalls.
How to bring out the most of your characters.
Researching techniques.
Insights from other notable documentary filmmakers.
WHO SHOULD WATCH?
Writers and filmmakers interested in making a documentary.
Writers and filmmakers currently creating a documentary.
Anyone interested in what it takes to make a documentary.
Writers looking to develop their storytelling skills.
Documentarians looking for tools to develop their premises.
The Writers Store does not offer any refunds for the webinar. All sales are final.