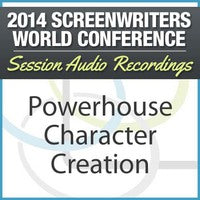 Powerhouse Character Creation - 2014 Screenwriters World Conference Session
As a screenwriter, characterization can be the most difficult process to write. It's also one of the most important elements of a story - the one that attracts actors, which in turn attracts money to produce your film. In this recorded session from the 2014 Screenwriters World Conference, two experienced writers will walk through the processes that have facilitated their ability to write memorable characters.
Learn what the "nugget" is and how to use it to your advantage in the character development process. The instructors will unveil research showing that the three-act structure parallels our own cognitive processes, which is why some movies are huge hits and others aren't. They'll walk through character archetypes and how to peel away at your character's change throughout your story in a way that welcomes your audience on their journey.
With this in-depth look at writing complicated, authentic characters, you'll be ready to dive in to your story and use your own vast experiences to write an amazing screenplay.
The Writers Store does not offer any refunds. All sales are final.