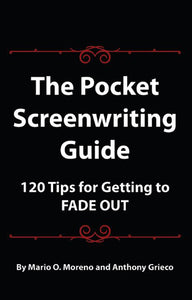 The Pocket Screenwriting Guide: 120 Tips for Getting to FADE OUT Digital Guide
The Pocket Screenwriting Guide: 120 Tips for Getting to FADE OUT  
Explore the screenwriting process from outline to final draft with The Pocket Screenwriting Guide. It guides you through classic Hollywood storytelling with 120 concise tips and explains the parts of a screenplay, including acts, sequences, and pivotal moments.
Since 1982, professional and aspiring scribes have looked to us at The Writers Store as trustworthy experts on all matters related to screenwriting. It's been our passion to continually seek out the best and most up-to-date answers to the many queries we receive on a daily basis.
This handy little guide serves as the culmination of our many years in the Industry. In it you'll find 120 tips on plot, structure, character and mythology that give you a constant point of reference while you write.
About the Authors
Since earning a bachelor's degree in Film from Miami International University, where he won an Outstanding Filmmaker Award, Mario O. Moreno has written numerous feature film scripts, been an Academy Nicholl Fellowships Quarterfinalist, Final Draft's Big Break Semifinalist and Austin Film Festival Finalist, co-authored The Pocket Screenwriting Guide: 120 Tips for Getting to FADE OUT, and has pitched to executives at Paramount, Warner Brothers, Fox, Disney, Universal and Sony. He also coached the first 3 winners of the Industry Insider Contest, including Tyler Marceca, whose "The Disciple Program" was acquired by Universal in a bidding war. 
Anthony Grieco is a 2015 Nicholl Award winner for his script Best Sellers. It was recently produced by Cassian and Arielle Elwes and stars Michael Caine and Aubrey Plaza. Anthony has had several scripts optioned, and eagerly awaits the start of production on his next script, a Buzz Aldrin biopic to be directed by Marc Forster. In addition, Anthony is a script consultant. He has worked as a Story Specialist for The Writers Store and a mentor for the Industry Insider Screenwriting Contest. He is also the co-writer of the screenwriting book The Pocket Screenwriting Guide: 120 Tips for Getting to Fade Out.
The Writers Store does not offer any refunds. All sales are final.