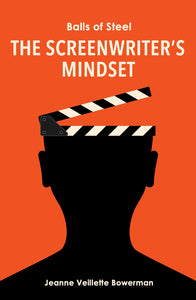 Balls of Steel: The Screenwriter's Mindset Digital Guide
Becoming a screenwriter is as much about mindset as it is about talent. Being able to write a great screenplay is only half the battle, as Jeanne Veillette Bowerman explains in this nearly 200-page PDF. You have be able to make the time to write against other obligations, understand how to submit your pages, and stay motivated in the face of rejection.
Featuring 46 completely updated articles and never-before-seen content based on her popular "Balls of Steel" blog series on ScriptMag.com (and selected as recommended reading by the Universal Writers Program), you'll discover informative, yet personal chapters on the Mentality of a Successful Screenwriter, Actions of a Successful Screenwriter, Setting Goals, and When Things Don't Go Your Way.
Using her own screenwriting experiences, interviews with industry professionals, and knowledge garnered from her years as editor-in-chief of Script, Bowerman imparts meaningful insights and some hard truths about how writers can get in the right mindset to make it as a successful screenwriter.
This 199-page digital guide includes:
46 revised and updated articles
Tips for setting goals and taking advantage of opportunities
Suggestions for finding your writing sweet spot and how to push yourself outside of your comfort zone
How to find and work with a writing partner
Motivation for the inevitable zig-zag of the screenwriting career path
PLUS, this PDF is hyperlink optimized for additional screenwriting resources
About the Author
Jeanne Veillette Bowerman is an Executive at Pipeline Media Group, Editor-in-Chief of Pipeline Artists, former Editor-in-Chief of Script magazine and a former Senior Editor at Writer's Digest, where she launched the screenwriting column, Take Two, for Writer's Digest print magazine. Recognized as one of the "Top 10 Most Influential Screenwriting Bloggers," her Script magazine column, Balls of Steel, was selected as recommended reading by Universal Writers Program. She is also Co-Founder of Writers Strong as well as Co-Founder and moderator of the weekly Twitter screenwriters' chat, #Scriptchat, and wrote the narrative adaptation of the Pulitzer Prize-winning book, Slavery by Another Name, with its author, Douglas A. Blackmon, former senior national correspondent of The Wall Street Journal.
The Writers Store does not offer any refunds. All sales are final.