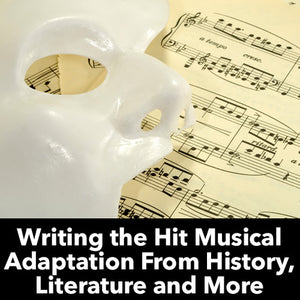 Writing the Hit Musical Adaptation From History, Literature and More
ABOUT THE WEBINAR
Musicals continue to be kings of the box office on Broadway, the West End, and around the world. The overwhelming majority of memorable, popular, successful musicals are derived from some kind of existing underlying work. Writing the Hit Musical Adaptation focuses on how to develop and write the story and book for a hit-worthy musical, which is perhaps the most challenging hill for any writer to climb.
Material that is ideal for being musicalized can be found in many sources: plays, books, magazine articles, history, movies, TV shows, games, toys, and more. Frequently, adaptors find it challenging to determine the right ingredients of a story that enables it to be told with song and dance that will make for a producible, commercial musical. This OnDemand webinar offers simple, straightforward methods of how to deconstruct an existing story to find the right pieces and parts that will help authors to tell an engaging tale with book, music, and lyrics.
Steve Cuden co-created the Broadway and international hit, Jekyll & Hyde, The Musical, and the musical Rudolf, Affaire Mayerling, which has been staged throughout Europe and Asia. He is also the author of the popular books, Beating Broadway: How to Create Stories for Musicals That Get Standing Ovations, and Beating Hollywood: Tips for Creating Unforgettable Screenplays.
WHAT YOU'LL LEARN:
Where to find story ideas adaptable for musicals and determining if it has commercial potential.
Working with material whether it's under copyright or in the public domain.
How to deconstruct a story and analyze it for musical structure.
Determining plot points for your musical.
The story development process for a musical.
How to reconceive a story to include song and dance.
How to develop 3-dimensional characters using existing characters.
Song spotting: song vs. dialogue.
When to include the composer and lyricist in the book writing process.
WHO SHOULD LISTEN?
Writers, composers, and lyricists with a great existing idea for a musical.
Musical book writers seeking to understand how to break down an existing story.
Writers, composers, and lyricists seeking to develop and write a musical.
Writers, composers, and lyricists of already existing musicals looking for ways to make their work more sellable.
Musical book writers seeking ways to think about and write dialogue.
Musical book writers wanting to understand song spotting.
Writers, composers, and lyricists seeking inspiration and tools to supercharge their musical theatre writing.
Writers, composers, and lyricists seeking inspiration and tools to supercharge their musical theatre writing.
The Writers Store does not offer any refunds for the webinar. All sales are final.