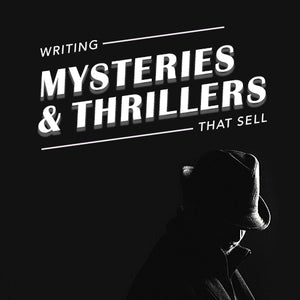 Writing Mysteries & Thrillers That Sell
$7999

$79.99

Save $439.88
---
---
This Writing Mysteries & Thrillers That Sell bundle has been updated for 2023, to include everything you need to write mysteries and thrillers. Whether you're writing for film or TV, we've got you covered. Learn how to add suspense to your screenplay, learn more about the genres, and master adding the perfect twist at the end of your work to keep your viewers wanting more! 
Idea to Story: Unraveling the Mystery of Story Development (OnDemand Webinar):
This OnDemand webinar explores how to find story ideas. Learn the process of finding the shape of the narrative by using the protagonist's journey as the story's spine. With the main character's internal and external goals driving the story, you'll crack the plot using conflict and the three act structure. ($39.99 value)
Create a Compelling Mystery (OnDemand Webinar): 
During this OnDemand webinar, writer and producer Charles Kipps walks you through the steps necessary to create a mystery that will keep your audience curious and entertained. Explore all aspects of storytelling which combine to make a mystery a mystery: the suspects, the clues, and the protagonist's crime-solving methods, and more. ($39.99 value) 
 Writing the Scene That Helps Sell Your Script (OnDemand Webinar): 
Great scripts require a show-stopping scene. In this OnDemand webinar, award-winning screenwriter Jon James Miller teaches how writers can encapsulate the essence of their story in one glorious scene and highlight the very best elements that make their stories worth telling and buying. ($39.99 value)  
Building Tension: Surprise Vs. Suspense (OnDemand Webinar): 
Building tension in stories can be a difficult balance between competing drives in your story. How do you know when a surprise will be more effective for the audience than the slow burn of suspense? This OnDemand webinar will walk you through that process, showing you how to blend the two and create tension in your work. ($39.99 value) 
How to Write An Action Thriller They Can't Put Down (OnDemand Webinar):
This OnDemand webinar discusses how to create a compelling, fast paced screenplay. Topics include the first 5-pages to jump-start the action, character backstory and dialogue that will not slow down the break-neck pace of your plot, and how to keep the reader invested in the outcome. ($39.99 value)
Loglines: How to Sell Your Script in One Sentence (OnDemand Webinar): 
This OnDemand webinar demystifies the process of creating an irresistible logline. Both successful and unsuccessful loglines will be deconstructed to illustrate the working parts, hierarchy, and transformative elements necessary to grab hold of your reader's attention. ($39.99 value) 
Master the Mystery Genre (OnDemand Webinar):
In order to effectively write films for today's viewers, screenwriters must master the history of their genre. Screenwriters who master their genre soon learn what that mastery can do for them when they successfully pitch their work armed with this research. This webinar provides illuminating information to support your idea and defend your pitch. ($39.99 value)
Write TV and Feature Thrillers that Sell (OnDemand Webinar):
As an experienced writer, producer, director and teacher, Steve Duncan knows the expectations of people who buy or option thriller screenplays and television scripts. This webinar will provide you the practical knowledge and tools that allows your creative talent to blossom and shine through in your thriller writing. ($39.99 value)
The Art of Writing the Twist Ending (OnDemand Webinar):
Join Hollywood screenwriter and bestselling author, Mylo Carbia, as she analyzes the architecture of a great twist ending and shares her unique methodology for writing surprise endings that sell. Learn how to implement Mylo's formula for layering "in your face" clues throughout the story, leading up to a shocking finish. ($39.99 value)
Adding Suspense to Your Screenplays (OnDemand Webinar):
Whether you're writing a drama, thriller, action, horror, or even a romantic comedy, suspense is a key element to keep your audience engaged. In this webinar, Christine Conradt offers specific techniques for adding suspense to your screenplay or novel through word choice, pacing, and misdirection. ($39.99 value) 
Amp Up the Stakes: Create a Ticking Clock (OnDemand Tutorial):
Urgency, tension and conflict are all essential ingredients in a script that will keep readers up all night. In this OnDemand webinar, Timothy Cooper guides you through creating the ticking clock in your own story and how you can dial up the urgency and tension by making small changes to your script. ($39.99 value)
Developing the High-Concept Screenplay (OnDemand Webinar):
This webinar covers the craft elements necessary to create a compelling, fast paced screenplay for a high-concept script. It demystifies the process of writing a high-concept script that avoids tropes and clichés while providing a satisfying, climactic ending that fulfills the promise of your high-concept. ($39.99 value)
Anatomy of a Mystery: Crafting Better Crime Drama (OnDemand Webinar):
In this OnDemand webinar, you'll learn foundational principles of crime and mystery writing that will help you ramp up the intrigue, suspense, and thrill of your next project! Instructor Jennifer Dornbush focuses on structure, creating better tension, deeper character development, and building successful and suspenseful evidence trails.($39.99 value)


This Offer Ends November 30, 2023!
The Writers Store does not offer any refunds for the Bundle. All sales are final.