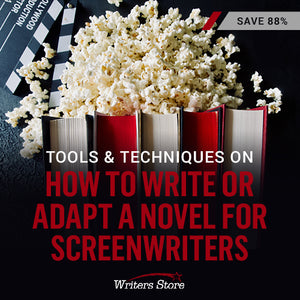 Tools & Techniques on How to Write or Adapt a Novel for Screenwriters
$7999

$79.99

Save $613.90
---
---
Have you ever wondered whether the story you've been itching to share with the world should be a novel or a screenplay? This bundle is for any writers, screenwriters and novel writers alike, who have asked themselves this question. With twelve OnDemand webinars and our Writer's Store classic, The Pocket Screenwriting Guide, this collection will teach you how and when to adapt your work, and the potential benefits of doing so. We're offering this bundle at an 88% discount, but for a limited time only! 
November is the perfect month to take a look at your writing projects with a fresh perspective; learn the Tools & Techniques on How to Write or Adapt a Novel for Screenwriters today!
Using Adaptations as the Perfect Source for Your Script (OnDemand Webinar): 
Best-selling author and award-winning consultant Jennifer S. Wilkov trains writers on their approach to literary agents and managers, producers, directors, the media, and more. In this OnDemand webinar, she discusses transitioning materials from their original form of a book, article, or story into a screenplay that will sell. ($39.99 value)

Turn Your Script Into A Novel (OnDemand Webinar):
When Russell Nohelty turned his script into a novel a world of opportunity opened up to him; he got his work read by producers, optioned, and people started to see him as an authority in the field. It never would have happened if he didn't take adapt his scripts into novels. In this OnDemand webinar, he shares his experience and teaches how you can make a novel of your script, too. ($39.99 value)
Script to Novel: Double Your Odds of a Sale (OnDemand Webinar): 
Screenwriters are learning that having both a novel and screenplay version of their story increases their odds of a sale in both literary and film markets. In this OnDemand Webinar, learn how to showcase your story-telling strengths, translate screenwriting skills to novelist craft, and jump-start your novel-writing career. ($39.99 value)

Write Your Novel in 90 Days (OnDemand Webinar):
The development of consistent writing habits is key to completing a book. This OnDemand webinar will provide a no-nonsense guide to readying yourself for the arduous, yet exhilarating project of novel-writing in a set period of time. By planning ahead, setting goals, and focusing on simple steps, you can avoid common pitfalls that have stumped novelists of every experience level. ($39.99 value)
Demystifying Adaptation: From Bookshelf to Big Screen (OnDemand Webinar): 
Jeanne Bowerman adapted the Pulitzer Prize-winning book, Slavery by Another Name, into both a feature screenplay and a limited series. In this OnDemand webinar, Jeanne covers why Hollywood loves intellectual property, what makes a book attractive for adaptation, and how to cut down a full-size novel into a two-hour story. ($39.99 value)
How to Secure, Adapt, and Sell Best-Selling Books to Hollywood (OnDemand Webinar):
If the rights are available, and you are willing to do the work, a book can be your calling card into the entertainment business. This OnDemand webinar illustrates how to acquire the rights to a best-selling book, or a book that may have been overlooked, in order to package and sell it in today's hyper-competitive marketplace. ($39.99 value)
Adapting Your Novel into a Screenplay: Take the Story from Book to Script
(OnDemand Webinar): 
To adapt a novel, the writer needs a very specific tool-kit.  This OnDemand webinar will show writers how to find the script hidden in the pages of the novel. It starts by exploring the strengths and weaknesses of each format, then how adaptation isn't just a simple copying of a story from one format to another. ($39.99 value)
Writing the Irresistible Novel: Techniques and Insider Secrets for Making Your Novel One Agents Can't Help But Request (OnDemand Webinar): 
In this OnDemand webinar, literary agent Barbara Poelle shares her best advice for coming up with marketable ideas. Learn the tools to write your best, and the vocabulary to talk about your creations in ways that will make industry professionals take notice. ($79.99 value)
Outlining Your Novel: Create a Roadmap to Storytelling Success  (OnDemand Webinar): 
Outlines can ensure cohesion and balance in the finished story, and provide you with a strong foundation. In this OnDemand webinar, K.M. Weiland, author of Outlining Your Novel: Map Your Way to Success, discusses the right type of outline for you, how to brainstorm plot ideas, and how to discover your characters. ($79.99 value)

How to Write a Successful Novel: The Craft, Techniques, and Strategies You Need to Know (OnDemand Webinar): 
If you're stuck, this OnDemand webinar is here to help! Let this presentation be your basic training for writing a novel. Topics include breaking through your blocks overcoming your fears, secrets to coming up with marketable ideas, and ways to keep your creative engine running. ($79.00 value)

The Plot Thickens: An Agent's Tips on Story Structures That Sell (OnDemand Webinar):
 In this 90-minute OnDemand webinar, writers have the opportunity to learn what agents and editors look for in a marketable novel or memoir - from an exciting beginning to a story's three acts. Literary agent and writing instructor Andrea Hurst teaches how to structure a plot that will keep an agent turning the page. ($79.00 value)
How to Target Agents and Editors: Market Your Novel to the Right People (OnDemand Webinar):
Instructor Scott Eagan has worked with numerous writers, teaching them how to find their target audience and hook editors and agents. In This OnDemand webinar, he teaches writers how to dissect both their own writing and that of published authors, to understand their individual writing voice and that of the publishers.($89.00 value)

The Pocket Screenwriting Guide: 120 Tips for Getting to FADE OUT
(Digital Guide):
Since 1982, professional and aspiring scribes have looked to us at The Writers Store as trustworthy experts on all matters related to screenwriting. This handy little guide serves as the culmination of our many years in the Industry. In it you'll find 120 tips on plot, structure, character and mythology that give you a constant point of reference while you write. ($9.95 value)
This Offer Ends November 30, 2023!
The Writers Store does not offer any refunds for the Bundle. All sales are final.