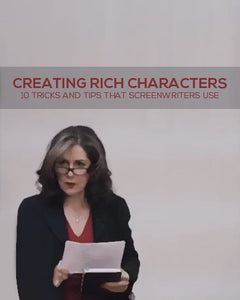 Creating Rich Characters: 10 Tricks and Tips that Screenwriters Use
In this two hour long video course, recorded live, award winning Professor Marilyn Horowitz teaches how to create rich characters using 15 plus years as a teacher and writing coach.  The course goes in depth into the first two of The Four Magic Questions of Screenwriting.  The concepts taught in The Four Magic Questions of Screenwriting textbook from the foundation for the Horowitz System®.  The Horowitz System® is a trademarked writing system that enables the writer to craft their screenplay in a systematic and intuitive method that makes rewriting easy and avoids frustration.
In addition, Professor Horowitz shares from her many script tips that she uses with her private students to show the audience and the viewer how they too can create much deeper characters using her proven methods.
The Writers Store does not offer any refunds for the webinar. All sales are final.